The kitchen in your restaurant is the heart of your business. Equipped with ranges, grills, deep fat fryers and a myriad of other high-temperature cooking appliances, no other environment demands appropriate fire protection more than today's modern cooking facilities.
Fires in commercial premises can be devastating, not only in terms of injuries but also in the cost of repairs and the disruption to business and the possibility that your customers may go elsewhere.
According to London fire brigade statistics between 2015 and 2017 44% of fires in restaurants were caused by cooking.
Cooker Hoods and Extractor Systems
The build-up of flammable fats, dust and greases may prevent ventilation systems from working properly and contribute to the rapid spread of fire.
Most insurance companies have a requirement as a condition of your building insurance policy to have your cooking hoods and extractor systems professionally cleaned.
First Aid Fire Fighting
Class F fires are fires that involve cooking oil or fat. Though technically a sub-class of fires caused by flammable liquids or gases, they differ from conventional fires due to the extremely high temperatures involved.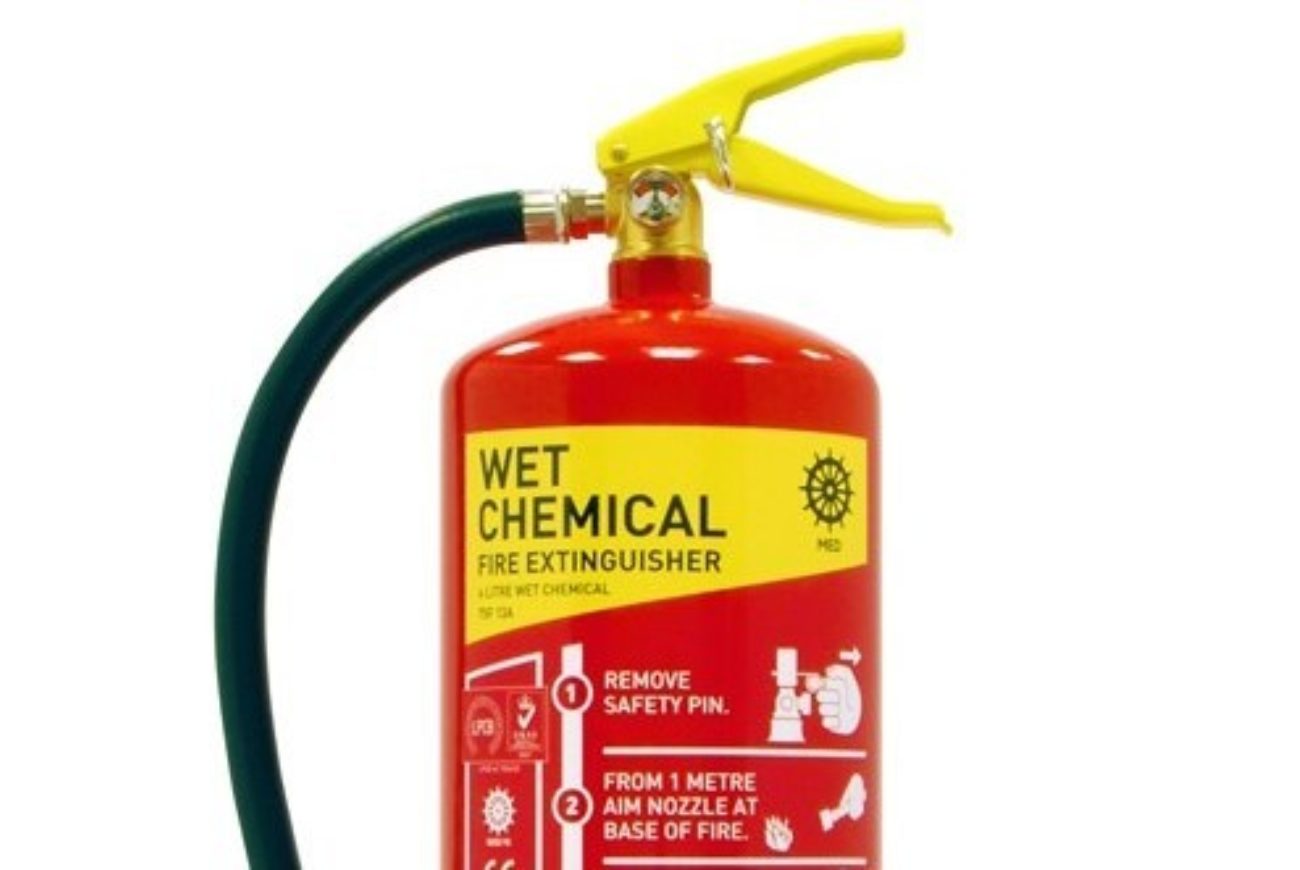 Whereas flammable liquids, such as petrol, usually have low flash and auto ignition temperatures, cooking oil or fats require temperatures in excess of 340°C to ignite. As such, the special characteristics of cooking oil and fat fires – specifically their higher flash point – have been recognised as important enough to categorise them separately.
Due to the exceptionally high temperatures involved in these fires a wet chemical fire extinguisher is recommended.
Automated Systems
The Jactone KitchenGuard system is designed to meet the challenges of a Commercial Kitchen.
Fully tested, approved and certified solution for kitchen fire suppression the system is designed to protect the kitchen and its catering equipment.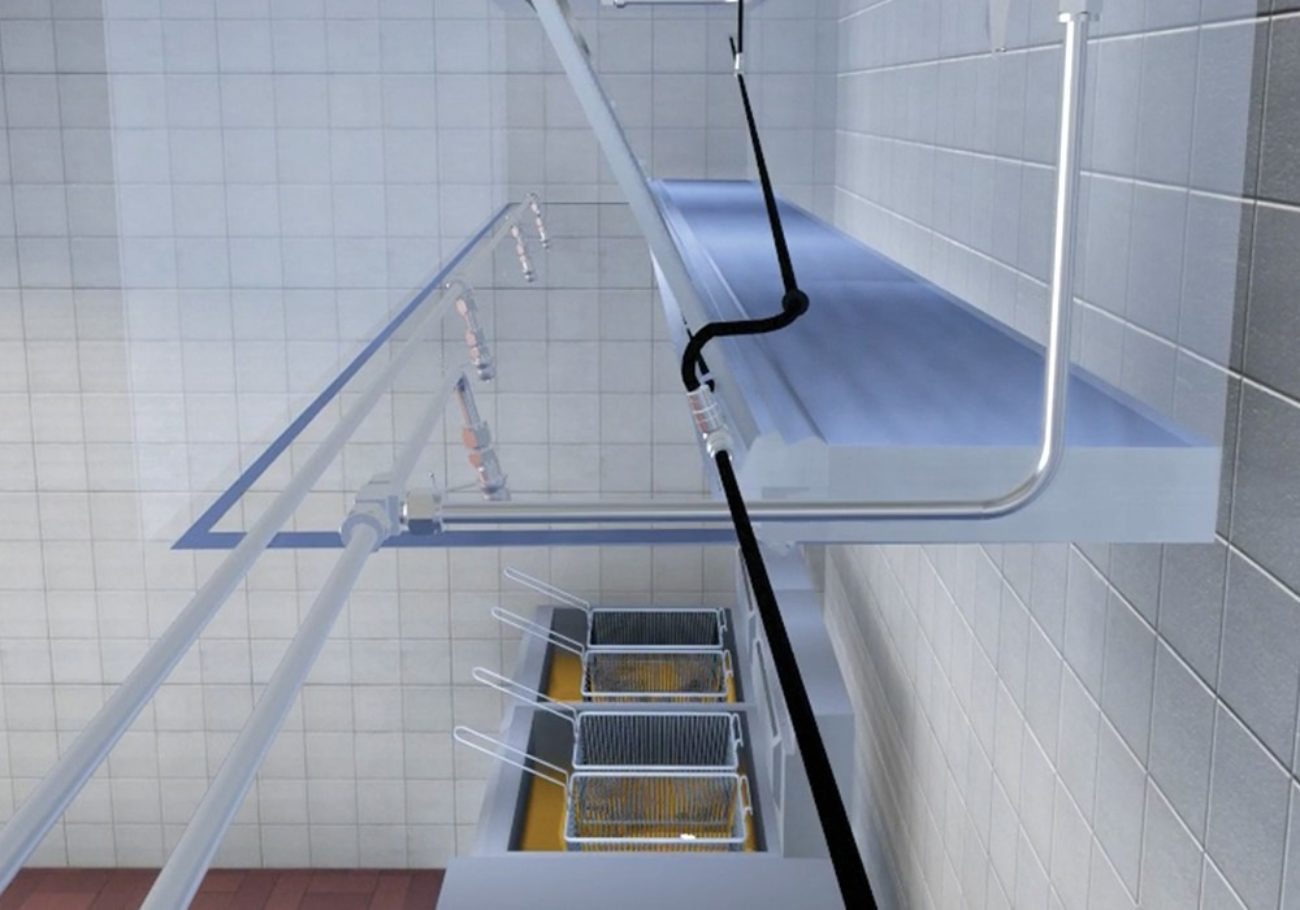 It incorporates many innovative features, to bring ground breaking characteristics and reliability to anyone with responsibility for kitchen fire suppression.
Detection tubing is installed in the extract hood and plenum and wet chemical discharge nozzles in the cooker hood and plenum to extinguish a fire within the hood and plenum.
Further discharge nozzles are installed to protect appliances such as grills, salamandars and deep fat fryers.
Ease of Use
Every system is supplied with a manual activation point to easily operate the system and extinguish the fire.

System Features
Simple, high quality and well engineered system, which is quick and unobtrusive to install.

Fast, automatic actuation of the wet chemical system agent.
Stainless steel pipework, fittings and nozzles to suit a variety of kitchen environments.
Highly reliable detection tube which remains unaffected by oil, dirt and kitchen grease.
Requires no mechanical movement or power supply for detection and activation, remaining operational during a power interruption.
Linear heat and flame detection, allowing for an unlimited number of detection points.
Flexible detection tubing can be located adjacent to the identified risk areas, providing fast effective fire detection.
Low whole life costs of system ownership from initial installation, planned system service and maintenance.
99% biodegradable wet chemical extinguishing agent.
Multiple systems can be connected for larger kitchens.
Approved to LPS 1223 (Fixed fire extinguishing systems for catering equipment)
Fire Protection Systems from SolarFire Systems
Whether you need a new fire alarm system, gaseous fire suppression system or an aspiration smoke detection system installed at your commercial property, SolarFire Systems has you covered. We are known for our excellent customer service, our expertise, and our reliability. For more information on how we can help your business visit our website www.solarfiresystems.com or give us a call at 01628 902107.
For more fire safety tips, be sure to follow us on Facebook, Twitter, Instagram. LinkedIn and subscribe to our youtube channel.