The Kentec Ekho's wireless fire alarm system is a highly sophisticated, reliable wireless fire detection and alarm system.

How the system works
Ekho's wireless expander modules are used to extend the radio mesh network, increasing the reach and capacity of the overall system.
It works by creating a self-healing mesh network, which constantly relays field device signals back to the translator module. Each wireless device determines which expander has the strongest signal path and automatically connects to it.
The expander mesh network, therefore, guarantees an 'always on' connection between the wireless devices and the translator / fire alarm control panel.
Ekho detectors are supplied in three variants: optical smoke; heat; and multi-sensor which are combined smoke and heat detectors, with the smoke and combined detectors featuring adaptive signal processing and double dust traps to prevent false alarms.

Heat detectors can respond to a fixed temperature threshold or detect a rate of rise in temperature.

Wireless sounders, call points and input / output modules are also available within the range.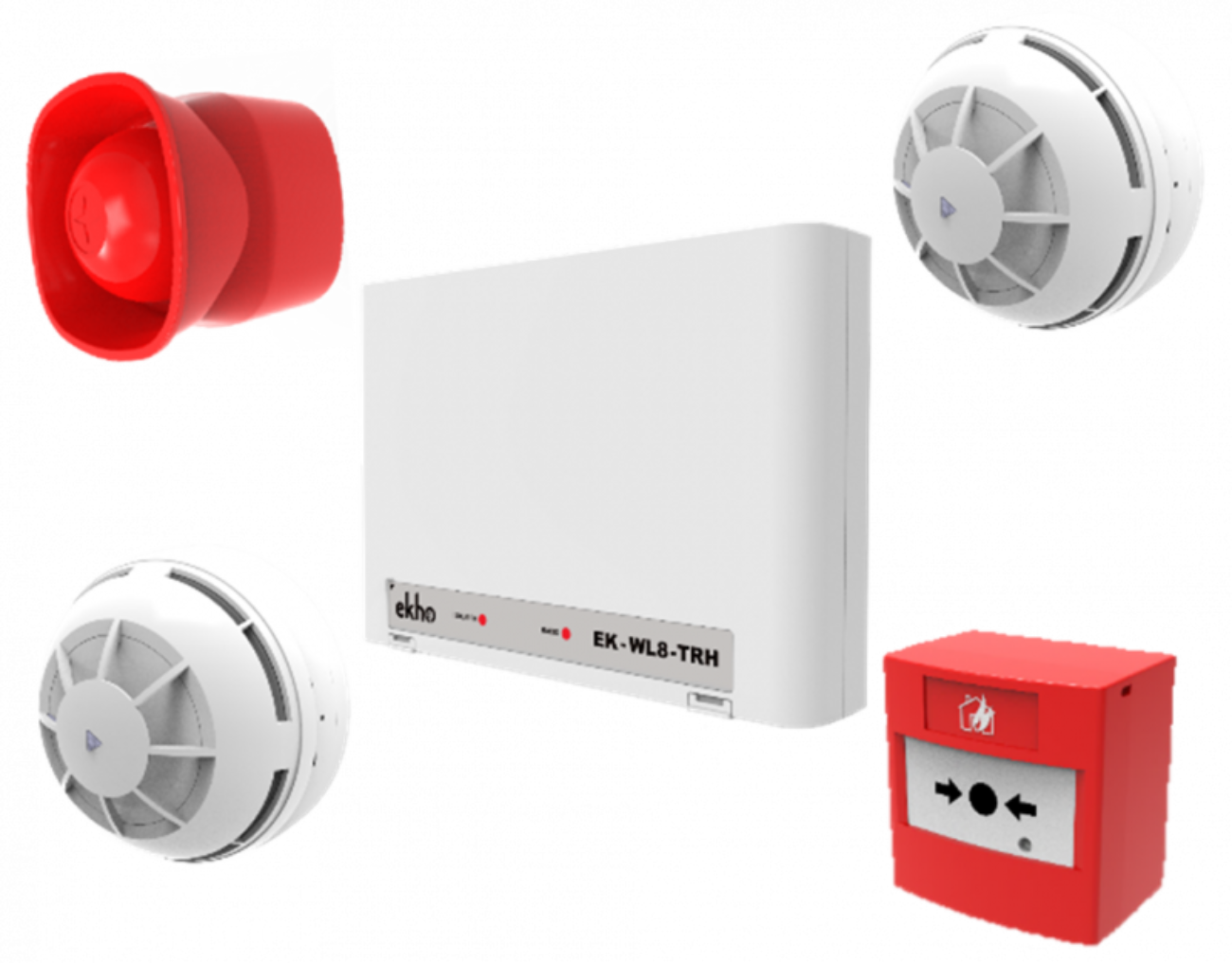 A wireless translator module, which sits at the centre of the system, is hard-wired to the fire alarm control panel loop and communicates continuously with the wireless devices.

Benefits of a Wireless Fire Alarm System
As reliable as a wired system and tested to British and European standards
Quick to install and can be fitted with minimum disruption to your business
No need to shut down areas of the building or be open out of hours for the installation to take place
No ugly red cables or damage to your walls
Can be easily installed in buildings where there is limited access e.g. due to high ceilings
Layout is easily modified if something in your building changes e.g. you extend
Will save you money on labour, making good, and decorating costs
Will still work even if the power goes out as they are battery operated and have a battery back up system
Can be used as a temporary system in locations where a wired one can't be installed e.g. building sites
Can be used to extend existing wired systems
Why Choose us for your wireless fire alarm system?
Speedy response from your initial enquiry
Highly qualified and friendly engineers on hand to answer any questions or queries you may have
Quick and easy installation resulting in the tightest deadlines being achieved
About SolarFire Systems
We provide excellent customer service, our expertise, and our reliability are second to none.

For immediate assistance email [email protected] or give us a call at 01628 902107.