We are proud to announce that SolarFire Systems has been awarded ISO 9001:2015 and Iso 14001 certification from UKAS the National Accreditation Body for the United Kingdom, demonstrating our commitment to delivering quality and our effective environmental management system.
ISO 9001:2015 is the internationally recognised Standard for Quality Management and is used by over 1 million companies; it was created to give organisations such as ours an internationally recognised award that proves we're dedicated to reducing costs and improving productivity.
ISO 9001:2015 certification also provides our customers with assurance that they will receive consistent, quality products and services.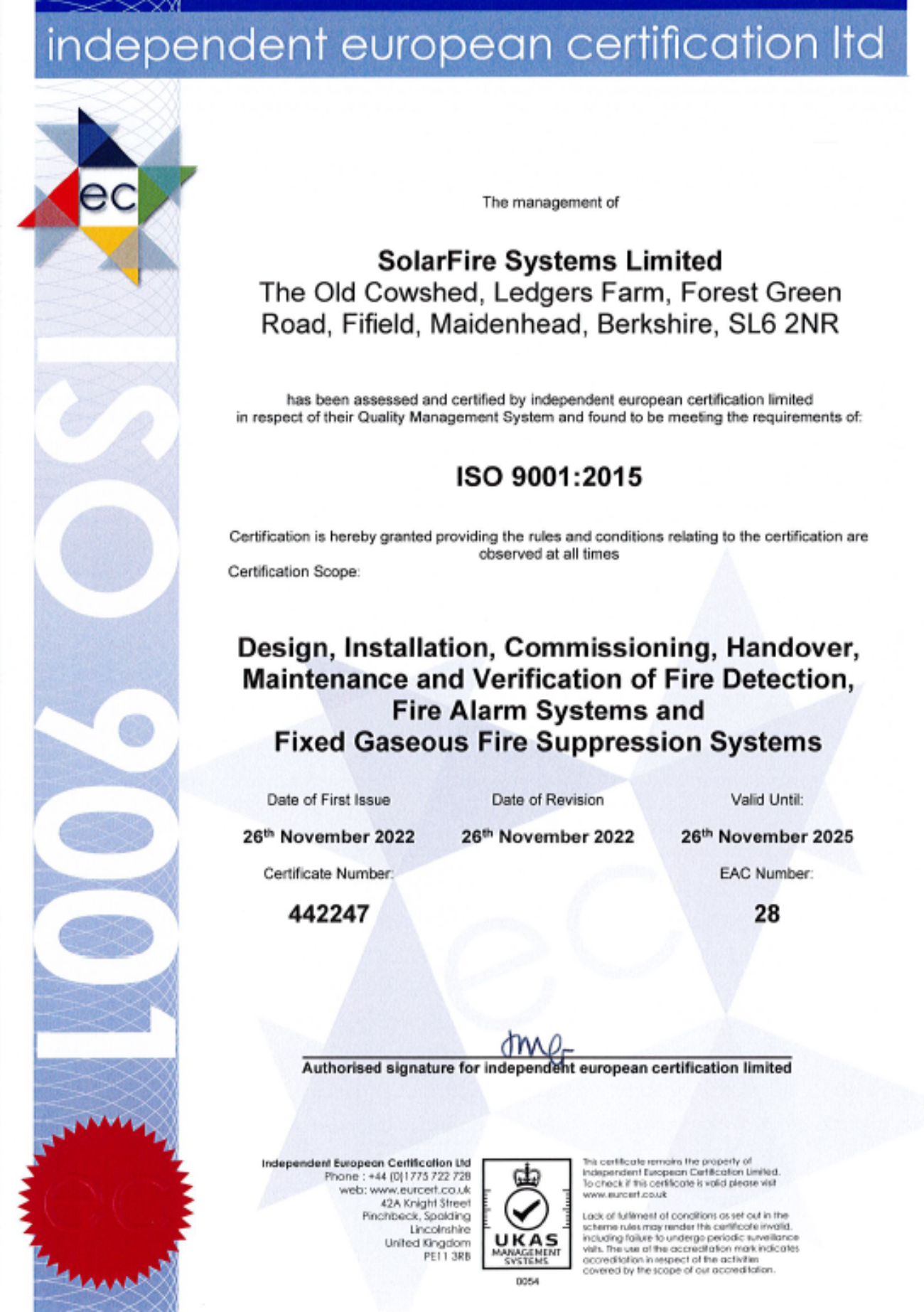 ISO 14001:2015 is the International Standard for Environmental Management Systems (EMS) and was designed to help businesses and other organisations to reduce their environmental impact.
Lee Bressington Managing Director of Solarfire Systems said: "These accreditations are a testament to SolarFire Systems ongoing commitment to customer satisfaction, which is our top priority. We focus on delivering high quality systems and services at competitive rates to our portfolio of customers by implementing best practices for continuous improvement and to further streamline processes. We have been recognised for our ability to respond quickly to changing circumstances, while we have been able to provide our clients with superior products and systems meeting and exceeding our customers' expectations."
Protecting the environment is an important business issue. Many organisations now require suppliers to have specific environmental management plans. Implementing ISO 14001:2015 helps us to demonstrate to our customers and stakeholders that our business is committed to reducing its environmental impact.
The ISO 14001:2015 standard provides us with an internationally recognised certificate that demonstrates our pledge to reducing waste, improving our resource efficiency, as well as cutting our waste management costs.
ISO 14001:2015 is also the most important standard in the ISO 14000 series of environmental management standards that have been developed to recognise companies that are committed to reducing their environmental impact.
At SolarFire Systems, we provide an extensive portfolio of Fire Suppression and Detection Services and solutions such as Water Mist Systems, Gas Extinguishing Systems, Fire Detection and Alarm Systems, design, supply, installation and maintenance of a wide range of Fire Systems.
We are dedicated in protecting our environment and offer a range of environmentally friendly fire suppression systems.
To find out more about our range of services or to discuss what we can do for your business, please contact us today by calling 01628 902107 or email [email protected].