Image Credit fbu.org.uk
The National Fire Chiefs Council (NFCC) has proposed that all schools undergoing refurbishment/extension are fitted with an appropriate automatic fire suppression system, with the latter being mandatory in all new build schools (the NFCC's response to the consultation on BB100 Design for Fire Safety in schools is available online).
Statistics
In 2019 alone, more than 271 primary schools and 209 secondary schools suffered fire damage.
Data from 41 out of 54 Fire and Rescue Service and Authorities in the UK reveals over 15,000m² of damage to school spaces and classrooms in 2019, impacting the education of almost 20,000 children.
Firefighters have been called to nearly 2,000 school blazes in England alone in the last three years.
Malfunctioning appliances or equipment, faulty electrics, arson and kitchen blazes are among the leading causes of school fires.

Larger fires in schools cost on average £2.8 million to repair and in some cases over £20 million.
The Water Mist Solution
Water mist systems control fire by reducing heat, displacing oxygen and controlling the fuel source by wetting and cooling the surrounding fuel surfaces.
The key to water mist technology lies in the design of the nozzle along with established pressure criteria to create a mist of small water droplets.
Water mist systems will have droplet sizes where 99% of the volumetric diameter is less than 1mm. Smaller droplets absorb heat at a faster rate than larger droplets due to the higher surface area-to-mass ratio.
A volume of water that consists of smaller droplets has a comparatively larger cumulative surface area than the same volume of water made up of larger droplets – such as those from a standard spray sprinkler. As a result, a rapid absorption of heat and evaporation of the smallest droplets will occur, causing temperatures to decrease while oxygen is displaced.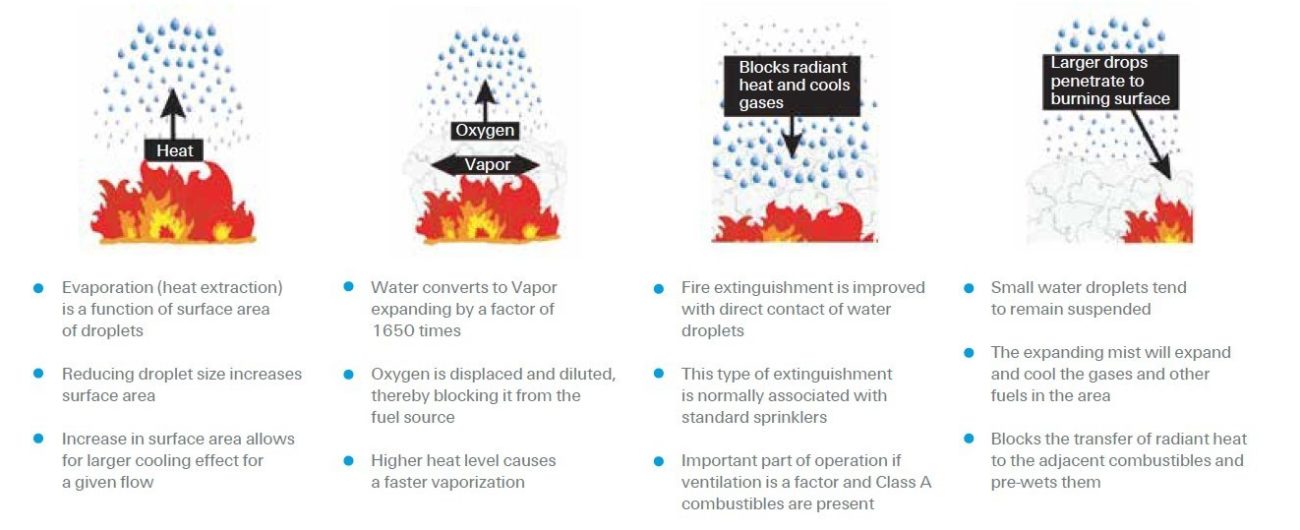 The British Standard
BS 8489 Part 1 sets out the design criteria for a water mist system and BS 8489 Part 7 covers Industrial and commercial watermist systems. Tests and requirements for watermist systems for the protection of low hazard occupancies
The Cost Benefits of Fitting an Automatic Water Mist Fire Suppression Systems
Reduced property damage and disruption due to fire damage.
Installation costs offset by reduction in other areas of fire safety provision.
Alternative approach for building design to meet the functional requirements
of building regulations
When a fire activates an Watermist Fire Suppression System, an alert can be automatically relayed to a control centre. The Fire Service response will be more effective and efficient because, unlike automatic smoke detection, water mist fire suppresion systems are not prone to false alarm signals.
A correctly designed, installed and maintained system will provide years of service. Some systems installed in the early part of the 20th Century are still providing fire protection today!
In certain circumstances, the use of concealed water mist heads can provide effective, aesthetic and vandal resistant fire protection.

Water Mist Fire Suppression systems are not prone to accidental operation. A typical head will activate at 68° Celsius, over 30°C above most ambient room temperatures. The chance of activation due to faulty apparatus is 1 in 16 million.
Each 'Water Mist' head is a stand alone, heat sensitive device, and is individually activated by the heat from a fire. THEY DO NOT all go off at once, contrary to that portrayed in the films and TV adverts.
Water Mist Fire Suppression systems are designed to contain or even extinguish a fire in its
early stages and so dramatically reduce fire damage.

Water Mist Fire Suppression systems can be effectively employed as part of a holistic fire safety strategy in order to enhance life safety, building sustainability and business
continuity.
Water Mist Fire Suppression systems enhance fire-fighter safety by preventing flashover and backdraught situations through early intervention, fire suppression and temperature reduction.
Because Water Mist Fire Suppression systems are extremely effective in controlling fire size with minimal water, they help to protect the environment by reducing the smoke plume
fallout and contaminated water run off from a fire.
Contact us today for a free Water Mist Fire Suppression quote.
Call us on 01628 902107 or email [email protected]