Watermist systems are becoming more commonly used as a means of fighting fires in large areas such as office buildings or hotels.
The Tyco Fire Protection AquaMist Ultra Low Flow (ULF) fire suppression solution is specifically designed to protect offices. AquaMist ULF for offices provides rapid, dependable fire suppression for working environments with limited and concealed spaces, including above-ceiling and below-floor void areas, containing electrical and data cables.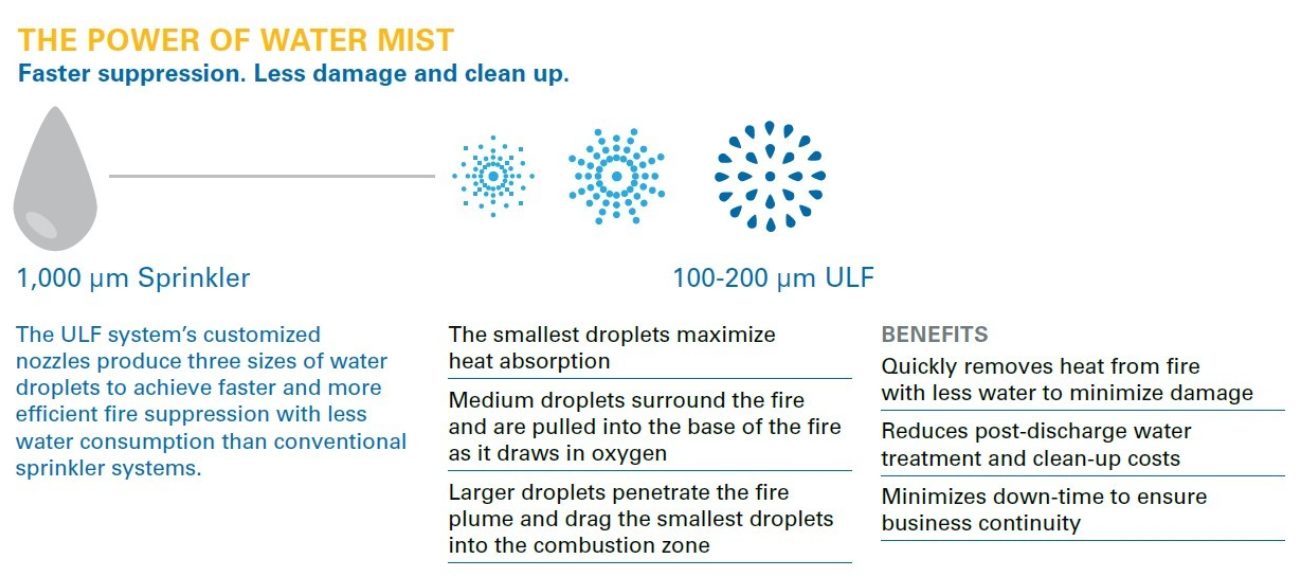 The system is further supported by components, which are FM and VdS Approved, including customised low-pressure nozzles producing a range of water droplet sizes, which are best-suited for the control of Class A fires. Providing rapid suppression and a high cooling effect, the FM Approved AM-27 and AM-29 closed automatic nozzles and VdS Approved AM-28 and AM-30 nozzles give protection for high coverage areas.
The system's low-pressure discharge and low water consumption help to minimise damage to property and reduce clean-up costs and operational downtime. "Our solution is suitable for complex office spaces, including voids, for which the AM-30 Ultra Low Flow AquaMist nozzle is specifically designed," states Rob Wakes the business development director for SolarFire Systems a Tyco JCI Partner.
In addition, smaller water storage tanks, pumps, pipes and fittings help to reduce space demand and installation costs.
Doesn't require automatic detection as the heat fracture bulbs (frangible bulb) can be used to detect a fire.
Agent is cheap or free so it's not expensive to cover a large area, and it's also quick and easy to replace after discharge.
Less damage to property than sprinklers and easier to clean up.
Environmentally friendly.

No large water storage or pump power requirements – when compared to sprinklers that need large pumps and tank reservoirs.
No large amounts of pipework infrastructure required when compared to sprinklers for large sites.
Rapid cooling below re-ignition temperatures.
Small pipe gauge – easier to install.
SolarFire Systems are experts in all types of fire suppression, and can design and install systems suitable for your business.

For more information please contact our friendly team on 01628 902107 or email [email protected]