Not all Inert fire suppression system gasses are equal. Data Centres like other mission critical operations require the gas system to extinguish the fire of a individual server / rack or UPS whilst allowing other servers to operate unabated.
Inert gasses benefit from putting out fires without damaging equipment. There is also no clean up required of the gas system after they put out a fire.
There are several different kinds of gases that can be used to extinguish a fire. Some of the most common gases used in fire suppression systems are:
IG-541
Inergen
INERGEN is a mixture of three inert, naturally occurring gases: 52% nitrogen, 40% argon, and 8% carbon dioxide. As INERGEN is derived from gases present in the earth's atmosphere, it exhibits no ozone depleting potential, nor does it contribute to global warming.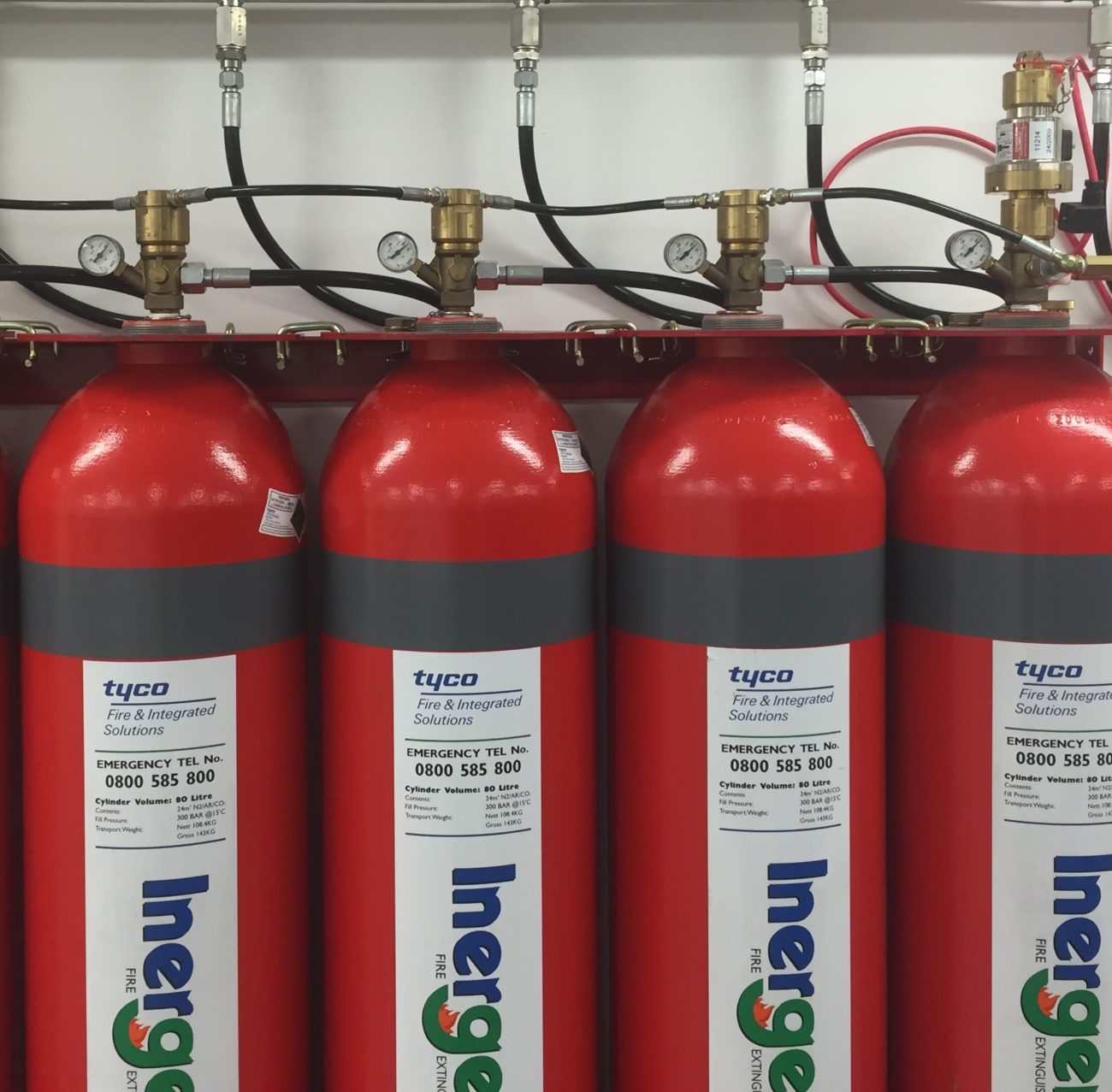 IG-55
Argonite
ARGONITE is an inert gas blend of argon and nitrogen, which occur naturally in the environment. With zero ODP, zero GWP and zero atmospheric lifetime, it has excellent environmental properties. A typical design concentration of 40% will reduce the oxygen level to 12.5% within 60 seconds. The space requirement for inert gas storage cylinders is greater than that needed for chemical agents The cylinders are mounted in rows and may be stored in any suitable location, even over 100 metres away from the protected space.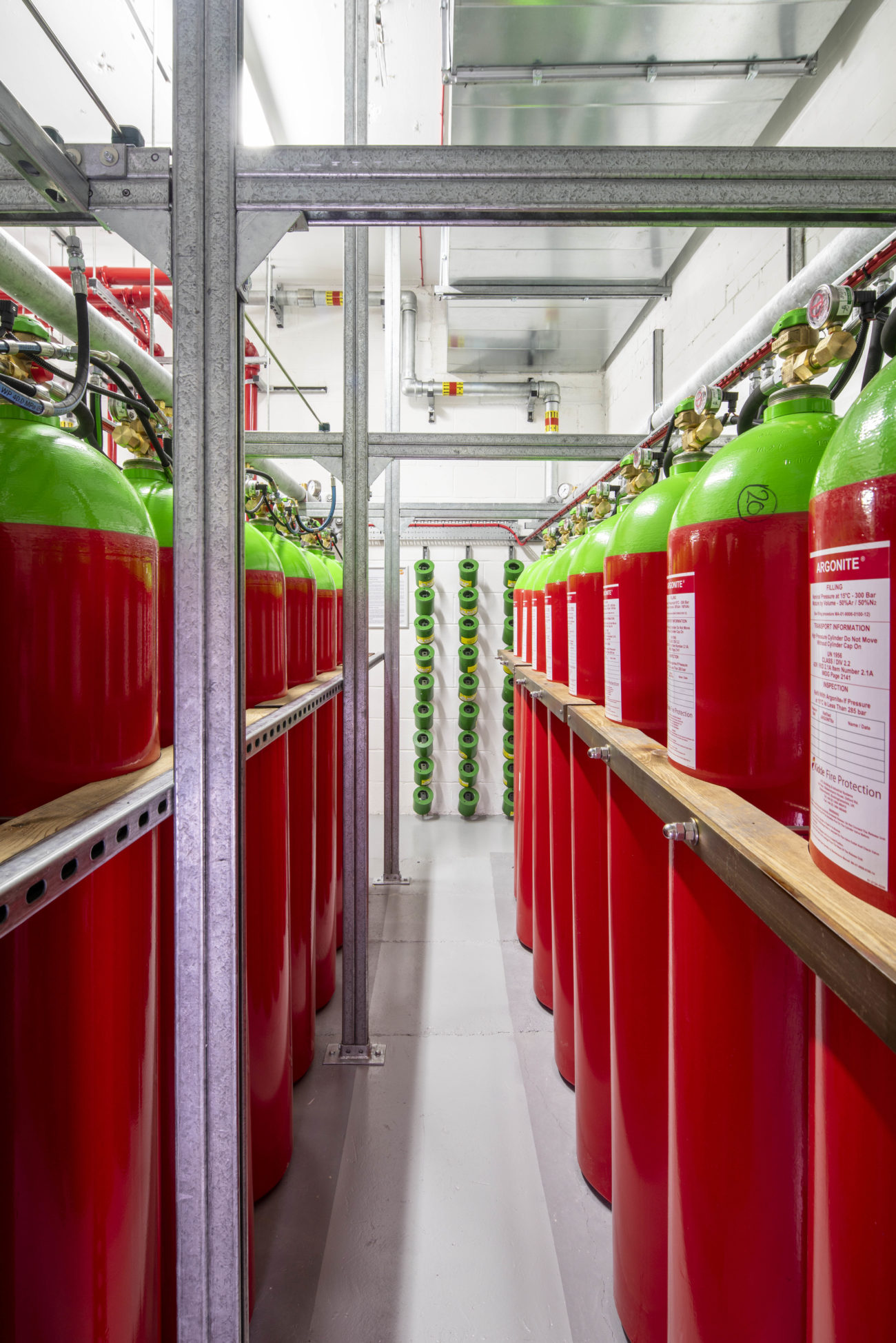 IG-100
Nitrogen

Nitrogen is inert gas naturally present in the atmosphere consisting of 100% Nitrogen, therefore its green-house effect is nil and its ozone layer depletion potential is zero. It is chemically inert, non-conductive, colourless, odourless and flavourless.
As nitrogen is lighter than air is is ideal for small rooms such as comms rooms or electrical rooms where leakage is an issue and other gasses would not pass a room intergrity test.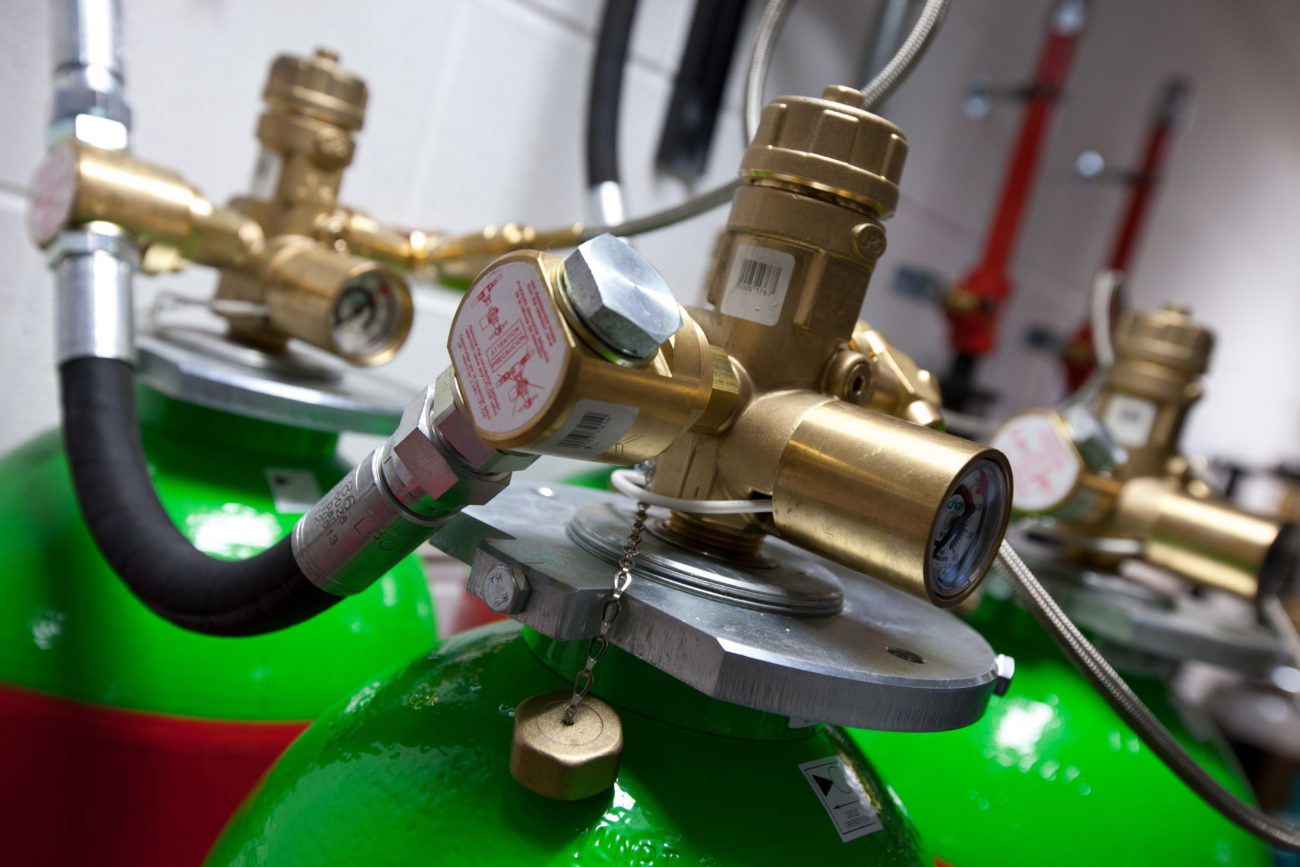 The Benefits of a Gas Extinguishing System
Non-conductive: In comparison to traditional firefighting methods, Gas Extinguishing Systems do not conduct electricity and therefore create a safer means if extinguishing electrical fires.
Quick Response: Not only will a gas suppression system quickly extinguish a fire, reducing the amount of damage caused by the ignition itself, but also can minimise the amount of damage caused by smoke and soot the occurs as a by-product of the fire.
Minimal Damage: The damage caused by the fire is not the only concern when dealing with a business fire, the residue or water left behind by a traditional fire extinguisher can be extremely damaging to items like electronics. With a gas suppression system, your business will be back up and running much quicker, as there is much less clean up required in the aftermath of the fire's extinction.
Protect Employees and Occupants: Since a gas extinguishing system can be used in rooms that are both occupied and unoccupied (system dependant), there is no need for evacuation before the system is triggered and therefore the fire will be extinguished faster, protect your valuable human resources.
Eco – Friendly: Clean agent gas suppression systems such as IG-100 Nitrogen, are environmentally friendly and will not contribute to the depletion of the earth's ozone.
Why choose SolarFire Systems

Nationwide coverage
Multi-year service contracts available
24hr attendance
Skilled trained engineers
Mechanical and Electrical servicing available
Competitive pricing
BAFE SP 203 accredited
F-Gas certified
For more information on how we can help your email [email protected] or call the office to speak to one of our team on 01628 902107.